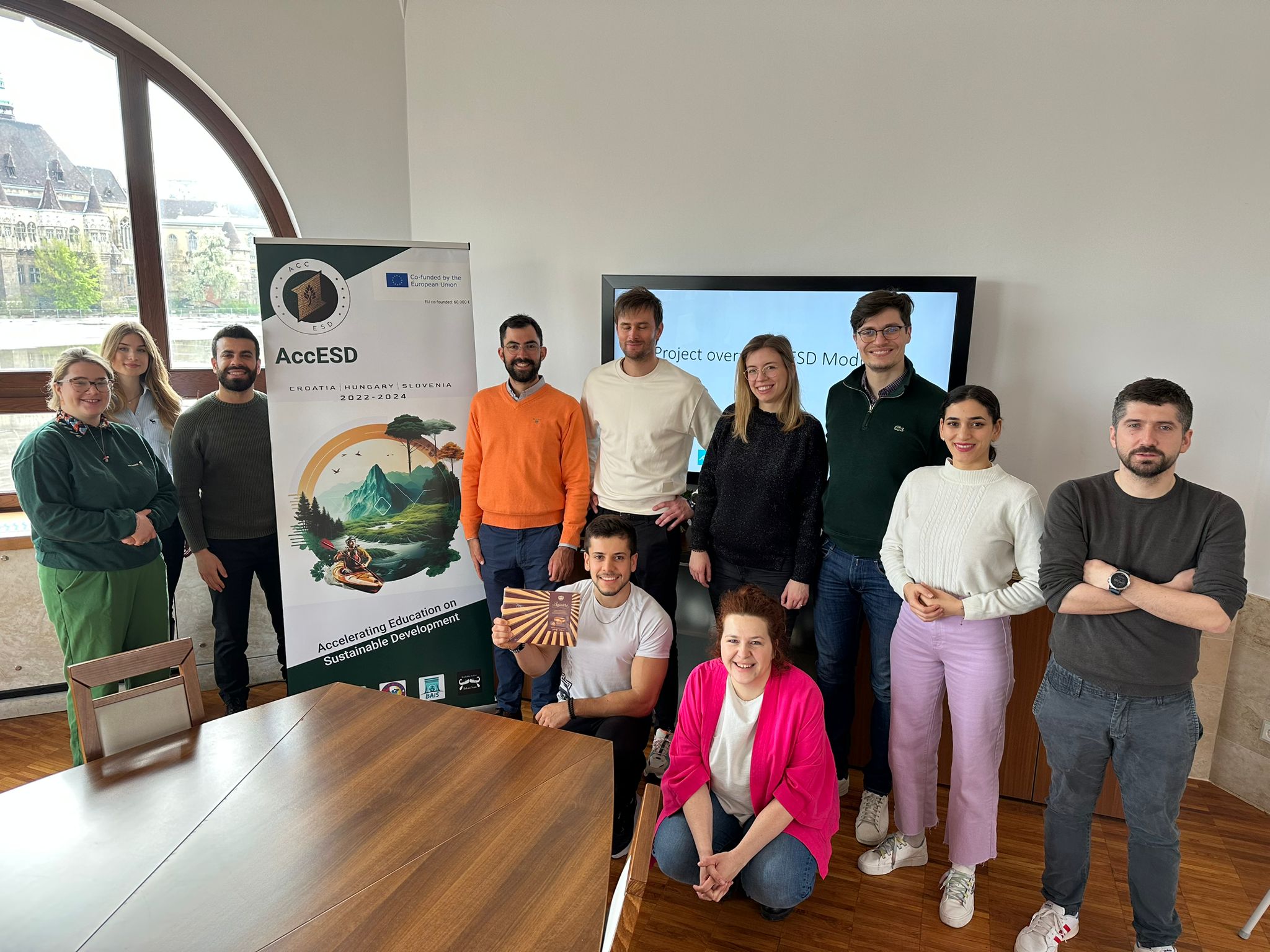 The AccESD project, a collaborative initiative focused on promoting environmental sustainability in sports, on 15 April 2023 conducted its second Educational Module (ESD Module 2) in Budapest, Hungary. This workshop, titled "What is causing climate change?", brought together representatives from various partner organizations to discuss the causes of climate change and the role of individuals and sports organizations in mitigating its impact.
Held at a workshop room near the iconic Hero Square, the event was organized by Budapest Association for International Sport (HU) in collaboration with Active Citizens (HR), Kayak Canoe Club Mladost (HR), Kajak Association Brkati Som (SI) and Sustainable Society Accelerator – Accelerator (HR). The diverse group of attendees actively participated in discussions, sharing their experiences and ideas on innovative approaches to address climate change.
Accelerator, the project coordinator, presented an overview of the current AccESD project, its status, upcoming activities, and budget. The conversation also covered plans for the upcoming ESD Module 3, set to be organized in Slovenia.
One of the highlights of the workshop was a comprehensive presentation delivered by an officer from the Hungarian Parliament specializing in sustainability. The presentation, "What Causes Climate Change?", provided an in-depth analysis of the factors contributing to climate change, including natural and human causes, evidence of climate change, its global consequences, and potential mitigation strategies. The presentation also emphasized the role of sports organizations and clubs in advocating for climate change awareness and sustainable practices.
To further engage participants, the workshop featured interactive exercises, group discussions, and personal reflection activities. Attendees calculated their carbon footprints and identified steps they could take to reduce their emissions. The workshop also allowed participants to explore potential actions to address climate change in their communities and within their sports organizations.
The ESD Module 2 workshop served as a valuable platform for knowledge sharing, collaboration, and encouraging action on climate change. The success of the workshop underscores the importance of international cooperation in addressing environmental challenges and promoting sustainable practices in the field of sport.
As the AccESD project moves forward, the partners eagerly anticipate the upcoming ESD Module 3 in Slovenia, confident that the experiences shared in the previous modules will lead to continued growth, cooperation, and positive impact in the field of sport and environmental sustainability. Stay tuned for updates on the project's progress and upcoming workshops!